At Eagle Rock Music Studio, we believe it is important to give our students the most well rounded education we can, and this includes familiarizing them with the best artists and works pertinent to their instrument of study. Given the proliferation of streaming services such as Spotify, it is now easier than ever to broaden your musical horizons, and this guide should provide a useful starting point. We recommend our students who aspire to be jazz musicians give these artists and albums a close look.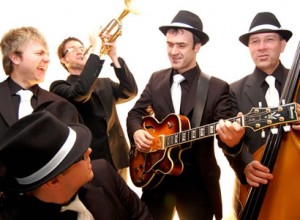 Vocals
There are so many great jazz vocalists to choose from, but the biggest ones are Frank Sinatra, Billie Holiday, Sarah Vaughan, Ella Fitzgerald, Nat King Cole, Louis Armstrong, Nina Simone, and Dinah Washington. Many of these artists pre-date the album era, but Sinatra alone has several indispensible albums like In the Wee Small Hours (1955) and Songs for Swingin' Lovers! (1956), and other artists on the above list rang in with classics like Sarah Vaughan with Clifford Brown (1955), Washington's Dinah Jams (1954), and Holiday's Lady in Satin (1958).
Trumpet
Louis Armstrong is the most influential jazz musician of them all, but Miles Davis had the greatest recording career, perhaps of any artist who has ever lived. There are still other trumpeters to rattle off: Dizzy Gillespie, Clifford Brown, Wynton Marsalis, even Quincy Jones. Davis is major kingpin when it comes to great albums, though: his Kind of Blue (1959) is universally accepted as the greatest jazz record ever, and his nearly countless other great albums — 'Round About Midnight (1956), Sketches of Spain (1960), In a Silent Way (1969), Bitches Brew (1970), etc. — are worthy of a lifetime of study.
Saxophone
The number of hugely important saxophonists that have existed over the years is almost too large to be believed, but here are some of the biggest names: Charlie Parker, John Coltrane, Lester Young, Coleman Hawkins, Sonny Rollins, Eric Dolphy, Cannonball Adderley, Wayne Shorter, Stan Getz, and Ornette Coleman. Parker is, more than any other figure in jazz, responsible for the development of modern jazz (he spearheaded bebop). Coltrane is likely the most recognizable name, and has some well-known classics to his name like Giant Steps (1960) and A Love Supreme (1964). Getz's masterpiece Getz/Gilberto (1964) features the hit bossa nova track "The Girl from Ipanema," and Ornette Coleman's The Shape of Jazz to Come (1959) thrust jazz into the avant-garde for the first time.
Guitar
Guitarists were not an especially large piece of the jazz puzzle until Wes Montgomery's The Incredible Jazz Guitar of Wes Montgomery (1960), and guitarists were still not utilized in the way we have come to expect until the fusion movement of the late '60s and '70s. This movement saw guitarists like John McLaughlin of the group Mahavishnu Orchestra rise to the fore, whose albums The Inner Mounting Flame (1971) and Birds of Fire (1973) are essentials.
Piano
There are many, many great jazz pianists. Some of them are: Thelonius Monk, Bill Evans, Oscar Peterson, Herbie Hancock, Bud Powell, Chick Corea, and Dave Brubeck. There are also many essential albums from these artists. Some of them are: Monk's Brilliant Corners (1957) and Monk's Dream (1962), Brubeck's Time Out (1959), and Hancock's Empyrean Isles (1964).
Bass
By far the biggest name when it comes to jazz bassists is Charles Mingus, who made a crazy number of great albums, including Mingus Ah Um (1959), Oh Yeah (1962), The Black Saint and the Sinner Lady (1963), Mingus, Mingus, Mingus, Mingus, Mingus (1963), and Let My Children Hear Music (1972).
Drums
Many of the greatest jazz drummers were session drummers who never led their own band or were considered the primary artist of an album release or concert. There were exceptions, however, such as Max Roach, whose Percussion Bitter Sweet (1961) is a must-listen, and Art Blakey, whose Moanin' belongs in every jazz collection.